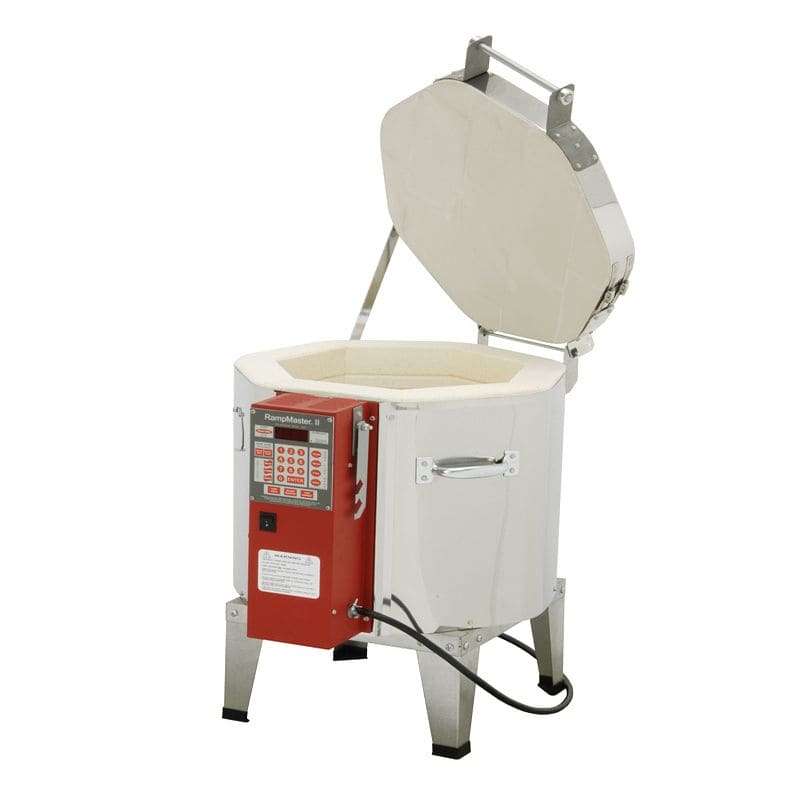 Evenheat HF 1413 Ceramic Kiln
Description

Specifications

Current lead times

Shipping

Why Buy From Us
Perfect Your Porcelain: The Evenheat HF 1413 Ceramic Kiln
Crafting delicate porcelain and china masterpieces at home has never been easier with the Evenheat HF 1413 Ceramic Kiln. This model is thoughtfully engineered with the home artist in mind, marrying the perfect size and state-of-the-art controls with the ability to fire up to cone 10.
The kiln's optimal design features 3" firebrick construction, offering superior insulation and energy efficiency. Control is at your fingertips with an array of advanced options including the TAP Touchscreen, Genesis Touchscreen, Rampmaster II, or Set-Pro systems. These user-friendly interfaces ensure precise firing schedules and consistent results, making them ideal for both budding artists and experienced creators.
The innovative Swing View pivoting control enclosure is a game-changer, providing effortless adjustment for optimal viewing and ease of operation, regardless of your studio setup. And for those who demand the utmost in temperature accuracy and element longevity, the Quiet Drive Solid State output is a valuable upgrade that fine-tunes your firing process to perfection.
Compact yet capable, the HF 1413's dimensions of 14.5" diameter x 13.5" deep make it a comfortable fit for any home studio. Operating at 240V with a 15A current and 3600W power output, it reaches a maximum temperature of 2350°F, ensuring your porcelain and china artworks are fired to excellence.
The Evenheat HF 1413 Ceramic Kiln stands ready to transform your ceramic artistry with professional-grade results right in the comfort of your home.
Chamber Dimensions 
14.5" Diameter x 13.5" Deep - 1.3 Cubic Feet
(36.8 cm Diameter x 34.3 cm Deep - 36.8 L)
Outer Dimensions
26.75" Long x 20.5" Wide x 27.5" High (includes the 8" stand)
(67.9 cm Deep x 52.1 cm Wide x 69.9 cm High)
Maximum Temperature

2350°F (1288°C) - Cone 10 max.

Electrical

240 Volts, 15 Amps, 3600 Watts, 60Hz, Single Phase
​Power Cord Plug Configuration - NEMA 6-20
​Consult with an electrician for proper fuse panel, service wire size, receptacle, and fusing requirements. It is possible that this model, when used as intended for its expected purpose, may be defined as "continuous use". Continuous use is defined as continuous, full power on for 3+ hours.
Model will operate properly on both 50Hz and 60Hz
​Model not available in 3 phase Delta or Y designs
​Shipping Weight

​130lb. (59Kg) - Approx.

​Shipping Method

​Freight Truck​​

NRTL Agency Listing
TUV Listed United States and Canada - Designed and Tested to CSA & U/L 499​​
 
HF models may contain chemicals known to the State of California to cause cancer and birth defects or other reproductive harm.
Estimated order to ship lead time is 4-6 weeks.
Pottery Pulse ships orders FREE to customers within the lower 48 contiguous United States (including the District of Columbia).
We don't want to mess around with fine print and extra charges, we
like things to be simple and easy.
Free is pretty easy.
We get it. You've got a lot of choices when it comes to online retailers. Here's why we think you should shop with us at Pottery Pulse.
Price Match Guarantee. Best prices online guaranteed.
30 Day Easy Returns. Changed your mind? We'll take it back no questions asked.
Super amazing service. Great service isn't enough these days, is it? We pride ourselves on the best service, anywhere.