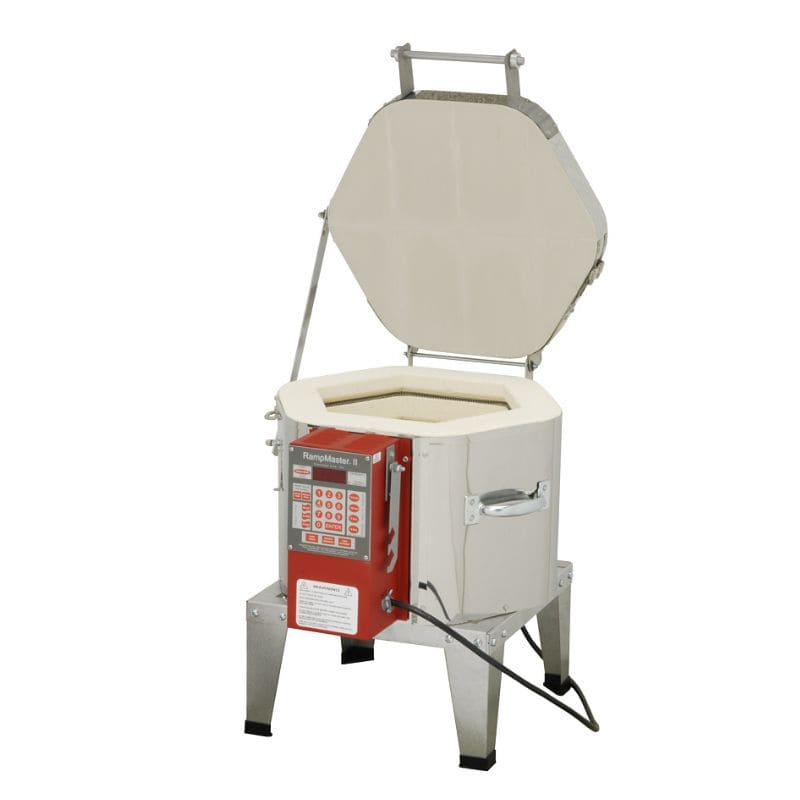 Evenheat RM II 810 Ceramic Kiln
Description

Specifications

Current lead times

Shipping

Why Buy From Us
Ignite Your Imagination with the Compact Evenheat RM II 810 Kiln

Have you met the Evenheat RM II 810? It's a small but mighty titan, perfectly proportioned for the china painting enthusiast and the clay artisan. This kiln, with its compact design and convenient 120-volt operation, is the quintessential addition to any artist's private studio, where space is at a premium and the creative spirit is boundless.
This isn't just a kiln—it's a portal to new realms of creativity. At 11.25" in diameter and 9" deep, the RM II 810 is engineered for those who embrace the precision and the delicate artistry of china painting, with the power to fire all clays to an impressive 2200°F, reaching cone 5-1/2.
Take command of your firing with the intuitive TAP Touchscreen control, a beacon of innovation that puts infinite possibilities at your fingertips. Imagine the assurance of consistent results with the Quiet Drive Solid State output, granting you the tranquility of tight temperature control and the longevity of extended element life.
Every detail of the RM II 810 whispers of user-centric design, notably the Swing View pivoting control enclosure, a subtle yet transformative feature that makes operation a joy and viewing a breeze.
Dare to dream, and let the Evenheat RM II 810 be your faithful ally. Its unassuming stature belies its robust capabilities, offering a gateway to unexplored artistic avenues. With a peak temperature of 2200°F, powered by a reliable 120V, 18A, and 2160W output, this kiln promises a fusion of efficiency and excellence.
Peer into your artistic future with the RM II 810. But be warned: To look is to be enticed. To own is to be empowered. This kiln isn't just an acquisition; it's a pledge to your craft, a commitment to the inexhaustible potential of your artistic journey. The stage is set; let the RM II 810 kindle the fire of your imagination. 
Chamber Dimensions 
11.25" Diameter x 9" Deep - 0.57 Cubic Feet
(28.6 cm Diameter x 22.9 cm Deep - 16.1 L)​​

Outer Dimensions
​22.5" Long x 16.25" Wide x 22" High (includes the 8" stand)

(57.2 cm Deep x 41.3 cm Wide x 55.9 cm High)​​

Maximum Temperature

​2200°F (1204°C) - Cone 5-1/2 max.​​
​Electrical

120 Volts, 18 Amps, 2160 Watts, 60Hz, Single Phase (Requires a Fully Rated 20A Breaker)​ 
Power Cord Plug Configuration - NEMA 5-20​

Consult with an electrician for proper fuse panel, service wire size, receptacle, and fusing requirements. It is possible that this model, when used as intended for its expected purpose, may be defined as "continuous use". Continuous use is defined as continuous, full power on for 3+ hours. ​

Model will operate properly on both 50Hz and 60Hz​Model not available in 3 phase Delta or Y designs​​

Shipping Weight

​62lb. (28Kg) - Approx.​​

​Shipping Method

​Freight Truck​​

NRTL Agency Listing
TUV Listed United States and Canada - Designed and Tested to CSA & U/L 499​​
 
RM II models may contain chemicals known to the State of California to cause cancer and birth defects or other reproductive harm.
Estimated order to ship lead time is 4-6 weeks.
Pottery Pulse ships orders FREE to customers within the lower 48 contiguous United States (including the District of Columbia).
We don't want to mess around with fine print and extra charges, we
like things to be simple and easy.
Free is pretty easy.
We get it. You've got a lot of choices when it comes to online retailers. Here's why we think you should shop with us at Pottery Pulse.
Price Match Guarantee. Best prices online guaranteed.
30 Day Easy Returns. Changed your mind? We'll take it back no questions asked.
Super amazing service. Great service isn't enough these days, is it? We pride ourselves on the best service, anywhere.