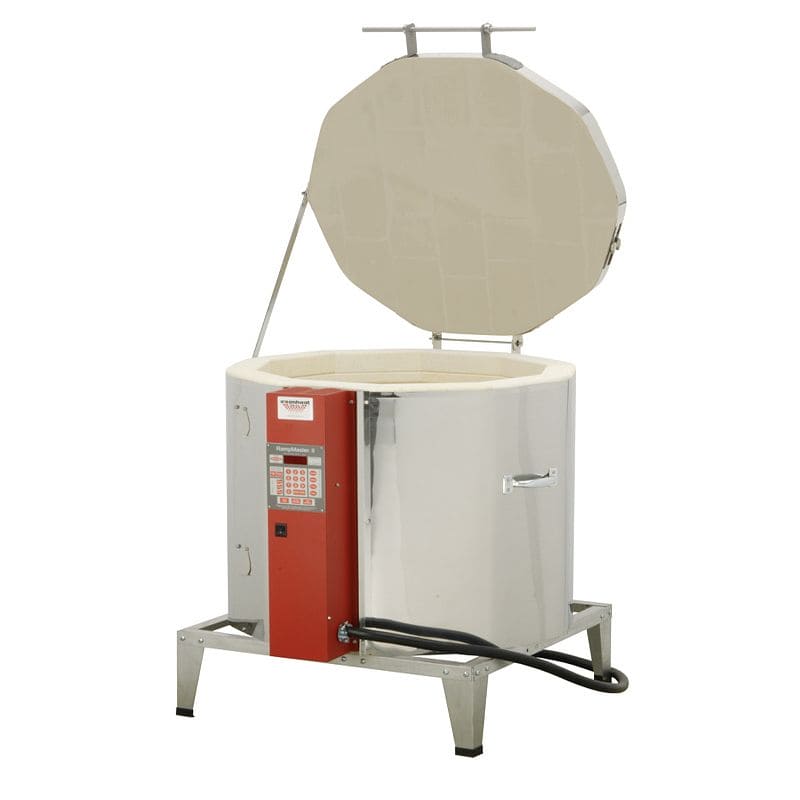 Evenheat RM II 2322 Ceramic Kiln
Description

Specifications

Current lead times

Shipping

Why Buy From Us
Elevate Your Artistry with the Evenheat RM II 2322 Kiln
Unlock a world of creative possibilities with the Evenheat RM II 2322, a favorite among discerning artists for its groundbreaking easy-load design. This isn't just any kiln; it's the key to redefining your craft. With its generous 23.5" diameter complemented by a spacious 22" depth, space is no longer a constraint - your imagination is the only limit.
Enhance your experience further with the optional Dyna-Lift Lid Assist, a patented feature that defines ease of use and safety, reducing the strain of lifting and lowering the heavy kiln lid. But it's not just about comfort; it's about power. The Evenheat RM II 2322 is engineered to propel your projects to new heights, reaching temperatures of up to 2300°F. With a robust 240V/39A/9240W configuration, you have all the power you need at your fingertips.
For those who demand precision and performance, the Evenheat RM II 2322 is the transformative tool your art has been waiting for. Your masterpiece awaits. 
Chamber Dimensions
23.5" Diameter x 22.25" Deep - 5.8 Cubic Feet
(59.7 cm Diameter x 56.5 cm Deep - 164.2 L)
Outer Dimensions
34.5" Long x 27.25" Wide x 35.25" High (includes the 8" stand)
(87.6 cm Deep x 69.2 cm Wide x 89.5 cm High)
Maximum Temperature
2300°F (1260°C) - Cone 8 max.

Electrical
240 Volts, 39 Amps, 9240 Watts, 60Hz, Single Phase
Power Cord Plug Configuration - NEMA 6-50
Consult with an electrician for proper fuse panel, service wire size, receptacle, and fusing requirements. It is possible that this model, when used as intended for its expected purpose, may be defined as "continuous use". Continuous use is defined as continuous, full power on for 3+ hours.
Model is also available in 220V and 230V.
Model will operate properly on both 50Hz and 60Hz.
​Model is available in 3 phase Delta or Y (380V, 400V, and 415V) designs.
Shipping Weight
215lb. (98Kg) - Approx.
​Shipping Method
​Freight Truck
NRTL Agency Listing
TUV Listed United States and Canada - Designed and Tested to CSA & U/L 499
RM II models may contain chemicals known to the State of California to cause cancer and birth defects or other reproductive harm.
Estimated order to ship lead time is 4-6 weeks.
Pottery Pulse ships orders FREE to customers within the lower 48 contiguous United States (including the District of Columbia).
We don't want to mess around with fine print and extra charges, we
like things to be simple and easy.
Free is pretty easy.
We get it. You've got a lot of choices when it comes to online retailers. Here's why we think you should shop with us at Pottery Pulse.
Price Match Guarantee. Best prices online guaranteed.
30 Day Easy Returns. Changed your mind? We'll take it back no questions asked.
Super amazing service. Great service isn't enough these days, is it? We pride ourselves on the best service, anywhere.