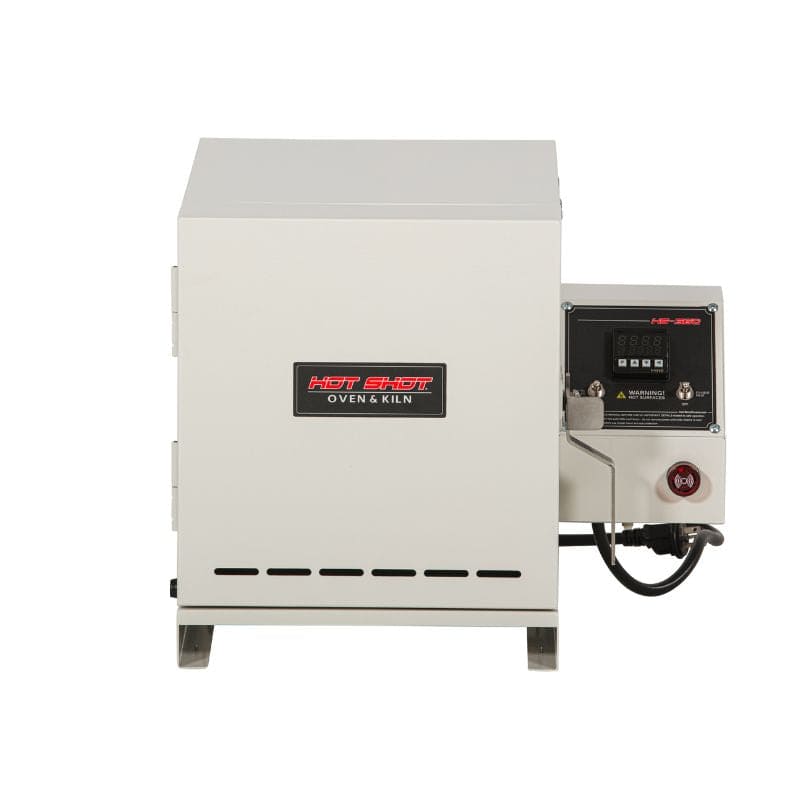 Hot Shot Oven & Kiln HS-360C Low Temp Ceramic Kiln
Description

Cool to Touch Technology

Controller options

Amperage/Voltage

Specifications

Shipping

Why Buy From Us
The Hot Shot 360C ceramic kiln is a space saving yet highly effective oven for your smaller ceramic projects.
NOTE: This kiln is to only be used for Low Temp Ceramics (under 2200F firing temperature) and must be in a well ventilated area.

This oven comes in multiple power configurations such as a 15amp-120V, 20amp-120V, or for optimal performance 20amp-240V. This is truly a gem that can be used in even the smallest of shops and includes Hot Shot's cool to touch technology, 
setting the bar for safety in the oven and kiln industry. Built in the USA using the highest quality components, we are excited to offer an oven that can be used anywhere by anyone!
STANDARD OFFERING: Novus Controller with 3-ft Cord.
UPGRADED CONTROLLER: TAP Controller with 6-ft Cord.
All variations of the HS-360C comes with an 18-month warranty.
Hot Shot ovens and kilns are equipped with Patent Pending Cool-Touch Fan Cooling Technology that provides a safe external temperature to allow for safer operation and protection of its surroundings. Each oven comes with a removable high density kiln floor. This is ideal to assist with project setup or if it needs to be replaced. It features a dual layer air plenum for external heat management and precise temperature control.
Controller Options (Novus vs PRO Controller)
When picking out your Hot Shot oven, you will have the ability to choose the standard built-in NOVUS Controller or upgrade to our TAP Smart Controller. Below you will find the differences between the two controllers to help make your decision easier.
Novus Controller
Built-in bluetooth
20 programs, 9 segments each
Push button programming / web-based software
Free QuickTune mobile app
Supports Type J, K, T, E, S, N, R, and B Thermocouple
TAP Controller
Built-in WiFi

Unlimited program storage
Touch screen programming
Free mobile app
Supports Type K, R, and S Thermocouple
Novus– The N20K48 series of PID (proportional–integral–derivative controller) temperature controllers have been designed for non-experienced novice users for combining extreme simplicity in operation with quality performance found in expensive high-end controllers. The Novus N20K48 can be operated by simply turning on the oven and setting the temperature needed or you can download the free Novus Quicktune App to be able to program the controller more easily via your phone/tablet. The controller can also be programmed by using the onboard buttons and a series of key presses. The Novus N20K48 controller is limited to only storing 20 programs at a time with a max of 9 segments per program.
TAP Pro – The TAP Pro controller is a state-of-the-art, programmable, full color touch screen controller. The TAP Pro can store an unlimited number of programs and can be easily programmed on screen or by using the free mobile app. All Hot Shot Pro ovens come with the Tap controller as well as built in Wi-fi for the ultimate user experience. The TAP mobile app allows the user to easily create and monitor programs in real time and allows the user the ability to set notifications, view firing logs with by-the-minute data points and receive push notifications about the operation schedules. The TAP controller also allows you to see maintenance schedules and offset a program that is currently running!
The 15 amp is equipped with an 1800W element and the 20 amp is equipped with a 2000W element. The 20 amp version will get up to temperature faster than the 15 amp. The 20 amp/240V is more efficient.  The 20 amp/120V option will require its own dedicated breaker. Hot Shot ovens come in several different types of configurations based on your needs. With this comes different power requirements from 120V 15amp or 20amp, to 220/240V. Each of these will require a specific outlet/receptacle for you to use the oven. For 120V, Hot Shot offers a 15 amp and 20 amp version on some models. These require different outlets in order to power the oven. The 15 amp is your standard at-home outlet. The 20 amp outlet however has a slight change to it that one of the vertical slots looks like a sideways T.
For 240V you will need the following outlet: 
Therefore when choosing a kiln/oven we highly recommend you check your power requirements first. We recommend making sure you have the proper outlet and, if not, to check with a professional about adding an outlet into your work area. DO NOT use extension cords in any situation!

15A / 110V
Max Temp: 2200

°F

Plug Voltatage: 110V
Max Amp Draw: 15 Amps
1-phase circuit: 15 Amps
Break-in period: 4-5 hours
Length of cord: 3 feet
Weight: 47 lbs
Exterior Dimensions: 20"L x 18.5"W x 16"H
Interior Dimensions: 10"D x 6"W x 6"H
20A / 120V
Max Temp: 2200

°F

Plug Voltatage: 120V
Max Amp Draw: 17 Amps
1-phase circuit: 20 Amps
Break-in period: 4-5 hours
Length of cord: 3 feet
Weight: 47 lbs
Exterior Dimensions: 20"L x 18.5"W x 16"H
Interior Dimensions: 10"D x 6"W x 6"H
20A / 240V
Max Temp: 2200

°F

Plug Voltatage: 240V
Max Amp Draw: 9 Amps
1-phase circuit: 20 Amps
Break-in period: 4-5 hours
Length of cord: 3 feet
Weight: 47 lbs
Exterior Dimensions: 20"L x 18.5"W x 16"H
Interior Dimensions: 10"D x 6"W x 6"H
Pottery Pulse ships orders FREE to customers within the lower 48 contiguous United States (including the District of Columbia).
We don't want to mess around with fine print and extra charges, we
like things to be simple and easy.
Free is pretty easy.
We get it. You've got a lot of choices when it comes to online retailers. Here's why we think you should shop with us at Pottery Pulse.
Price Match Guarantee. Best prices online guaranteed.
30 Day Easy Returns. Changed your mind? We'll take it back no questions asked.
Super amazing service. Great service isn't enough these days, is it? We pride ourselves on the best service, anywhere.