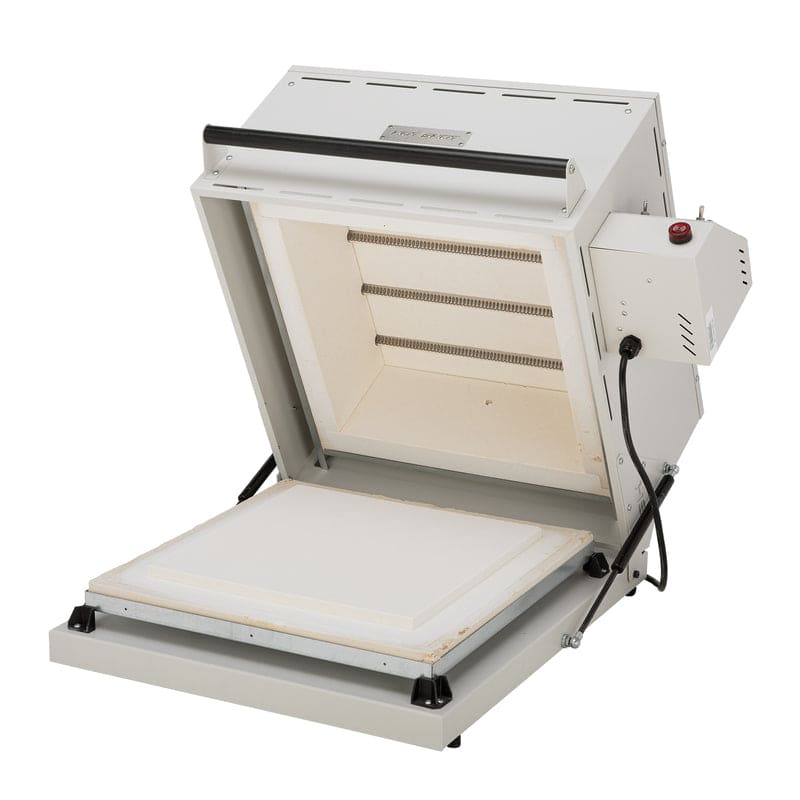 Hot Shot Oven & Kiln HS-16G Glass Kiln
Description

Specifications

Shipping

Why Buy From Us
Craft Brilliance with the HS-16G Clamshell Glass Kiln by Hot Shot
Transform your glass artistry with the HS-16G Clamshell Glass Kiln from Hot Shot, a compact yet powerful addition to any artist's studio. Whether you're working from the comfort of your home or running a bustling business, this kiln is a game-changer for enthusiasts and professionals alike.
The Perfect Size for Creativity
Don't let the HS-16G's modest 16"x16"x6" dimensions fool you. Within this space, your creative visions take physical form through slumping, draping, casting, and fusing. It's the perfect playground for glass artists who dream big but have limited studio space.
User-Friendly Design
The kiln's clamshell design is a nod to convenience and accessibility, featuring easy front access that not only simplifies moving projects in and out but also facilitates intricate in-firing manipulation. Want to rake or adjust your pieces mid-firing? The HS-16G is your silent partner, making these tasks effortless.
Workstation Flexibility
With an option of a fully-removable floor, the HS-16G goes beyond being just a kiln. It allows you to seamlessly transition from kiln to workstation, bringing your project to wherever your inspiration flows. This feature is not just convenient; it's a catalyst for continuous creativity.
Pristine Firing Conditions
Your masterpieces deserve the best. That's why Hot Shot has encased the heating elements in Quartz Tubes, ensuring that your glass projects remain uncontaminated by flaking elements. This thoughtful design translates to purity in every piece you craft.
Smart Controller: TAP PRO Standard
Elevate your firing experience with the TAP PRO Smart Controller, now a standard feature of the HS-16G. With its built-in WiFi, unlimited program storage, and intuitive touch screen programming, you're not just firing glass; you're commanding an advanced glass-shaping tool.
TAP PRO Controller Features:
Built-in WiFi: Stay connected and monitor your kiln from anywhere.
Unlimited Program Storage: Never run out of space for your custom firing programs.
Touch Screen Programming: A modern interface for the modern glass artist.
Free Mobile App: Control and manage your kiln with a tap on your smartphone.
Support for Multiple Thermocouples: Whether you prefer Type K, R, or S, TAP PRO has you covered.
Hassle-Free Setup
Designed to work with a standard 15 amp/120-volt home outlet, setting up your HS-16G is as easy as plugging it in and letting the creativity flow. No special wiring or outlets necessary.
Space Management
Both inside the kiln and inside your workspace, consider how you'll manage your space. Either the 15" x 15" ceramic or fiber-material kiln shelf will help you maximize efficiency inside the chamber. And the stand with caster wheels made specifically for the 16G will provide you the mobility you'll desire in your studio. Choose from either the 2-shelf or 3-shelf options.

Confidence in Quality
Peace of mind comes standard with an 18-month warranty, ensuring that your HS-16G is not only an investment in your art but also in your assurance of quality and reliability.
Step into the studio with the HS-16G Clamshell Glass Kiln by Hot Shot and let precision and possibility fuse into something truly extraordinary. This isn't just a kiln; it's the key to unlocking new levels of glass artistry.
| | |
| --- | --- |
| Max Temperature |   1700°F |
| Plug Voltage |   120V |
| Max Amp Draw |   15 Amps |
| 1-Phase Circuit Required |   15 Amps |
| Break-in Period |   4-5 Hours |
| Length of Cord – Standard |   6ft |
| Weight |   90lbs. |
| Dimensions (Exterior/Interior) |   30"Lx30"Wx16"H  |  16"Dx16"Wx6"H |
Pottery Pulse ships orders FREE to customers within the lower 48 contiguous United States (including the District of Columbia).
We don't want to mess around with fine print and extra charges, we
like things to be simple and easy.
Free is pretty easy.
We get it. You've got a lot of choices when it comes to online retailers. Here's why we think you should shop with us at Pottery Pulse.
Price Match Guarantee. Best prices online guaranteed.
30 Day Easy Returns. Changed your mind? We'll take it back no questions asked.
Super amazing service. Great service isn't enough these days, is it? We pride ourselves on the best service, anywhere.