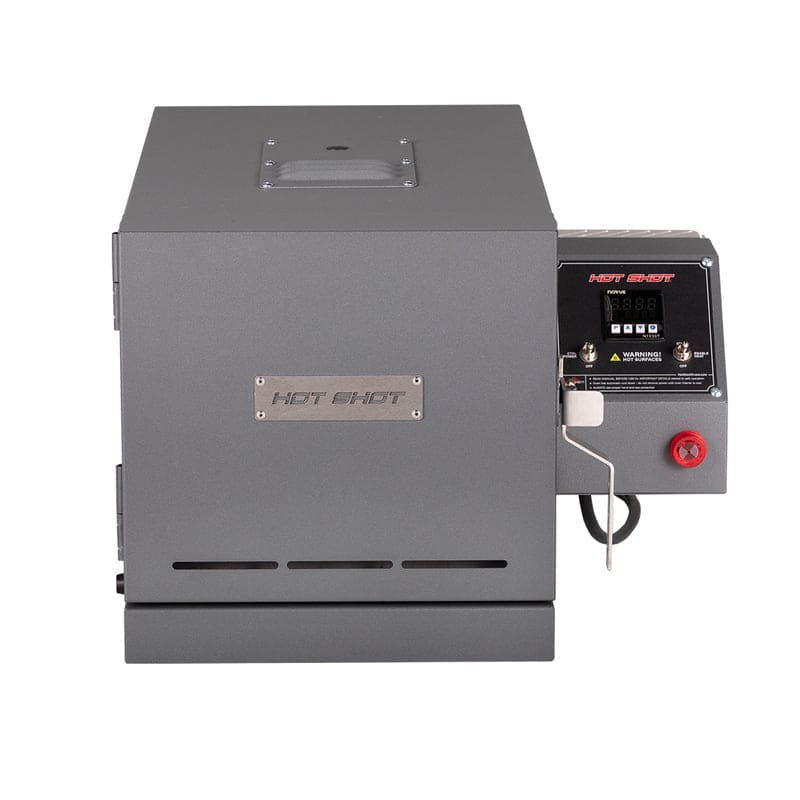 Hot Shot Oven & Kiln HS-18K Knife Making Oven
Description

Cool to Touch Technology

Controller options

Amperage/Voltage

Argon Gas Kit

Specifications

Shipping

Why Buy From Us
The Ultimate Heat Treating Companion - Hot Shot 18K Knife Making Oven.
Experience the epitome of precision, safety, and reliability with the Hot Shot 18K, an oven crafted in collaboration with esteemed blacksmiths and knife makers. Get your perfect blade and be safe every time you turn on your oven with cool to touch technology, side elements and long chamber (18"). We know most knife makers are hobbyists working out of their own shop or garage so Hot Shot designed an oven that was cool to the touch, a removable door for easy access in and out and all of the essentials built in with no added up charge; solid state relay, cooling fans, alarm and door switch.
The side elements allow for even heat distribution throughout the oven so you never have to worry about hot or cold spots! The icing on the cake…. our oven gets up to temp fast! The 120V option gets up to 2000F in 50 minutes and the 240V option in 25 minutes! Wow! Add on an Argon Gas Kit to help eliminate scaling on the surface of the steel! 
Don't forget to add a furniture kit. Includes: (4) 1"x 3" posts and a 6.25"x 17.5" shelf.
Hot Shot ovens and kilns are equipped with Patent Pending Cool-Touch Fan Cooling Technology that provides a safe external temperature to allow for safer operation and protection of its surroundings. Each oven comes with a removable high density kiln floor. This is ideal to assist with project setup or if it needs to be replaced. It features a dual layer air plenum for external heat management and precise temperature control.
Controller Options (Novus vs PRO Controller) When picking out your Hot Shot oven, you will have the ability to choose the standard built-in NOVUS Controller or upgrade to our TAP Smart Controller. Below you will find the differences between the two controllers to help make your decision easier.

Novus Controller

Built-in bluetooth
20 programs, 9 segments each
Push button programming / web-based software
Free QuickTune mobile app
Supports Type J, K, T, E, S, N, R, and B Thermocouple

TAP Controller

Built-in WiFi

Unlimited program storage
Touch screen programming
Free mobile app
Supports Type K, R, and S Thermocouple
Novus– The N20K48 series of PID (proportional–integral–derivative controller) temperature controllers have been designed for non-experienced novice users for combining extreme simplicity in operation with quality performance found in expensive high-end controllers. The Novus N20K48 can be operated by simply turning on the oven and setting the temperature needed or you can download the free Novus Quicktune App to be able to program the controller more easily via your phone/tablet. The controller can also be programmed by using the onboard buttons and a series of key presses. The Novus N20K48 controller is limited to only storing 20 programs at a time with a max of 9 segments per program.

The HS-18K comes in either a 15amp/120volt or 20amp/240 volt version. The 15 amp is your standard at-home outlet.
For 240V you will need the following outlet:
Therefore when choosing a kiln/oven we highly recommend you check your power requirements first. We recommend making sure you have the proper outlet and, if not, to check with a professional about adding an outlet into your work area. DO NOT use extension cords in any situation!
Argon provides an inert atmosphere and is usually delivered at dew point less than -75°F with an oxygen content below 20 ppm. An atmosphere of Argon can be used for the following heat treatment processes:
Annealing (non-ferrous metals, stainless steel, and alloy steel)
Brazing
Sintering
Hot Shot offers this well designed and easily adaptable Argon kit for all your heat treating needs. Includes flow meter, tubing, fittings and ceramic dispensing needle. (Argon gas not included)


15amp/110V
20amp/240V
Max Temperature
2200°F
2200°F


Plug Voltage
110V
240V


Max Amp Draw
15 Amps
12 Amps


1-Phase Circuit

15 Amps
20 Amps


Break-in Period
4-5 Hours
4-5 Hours


Length of Cord

6ft
6ft


Weight
67lbs.
67lbs


Dimensions (Exterior/Interior)
27"Lx19.5"Wx14"H | 18"Dx6.5"Wx4.5"H
27"Lx19.5"Wx14"H | 18"Dx6.5"Wx4.5"H
Pottery Pulse ships orders FREE to customers within the lower 48 contiguous United States (including the District of Columbia).
We don't want to mess around with fine print and extra charges, we
like things to be simple and easy.
Free is pretty easy.
We get it. You've got a lot of choices when it comes to online retailers. Here's why we think you should shop with us at Pottery Pulse.
Price Match Guarantee. Best prices online guaranteed.
30 Day Easy Returns. Changed your mind? We'll take it back no questions asked.
Super amazing service. Great service isn't enough these days, is it? We pride ourselves on the best service, anywhere.