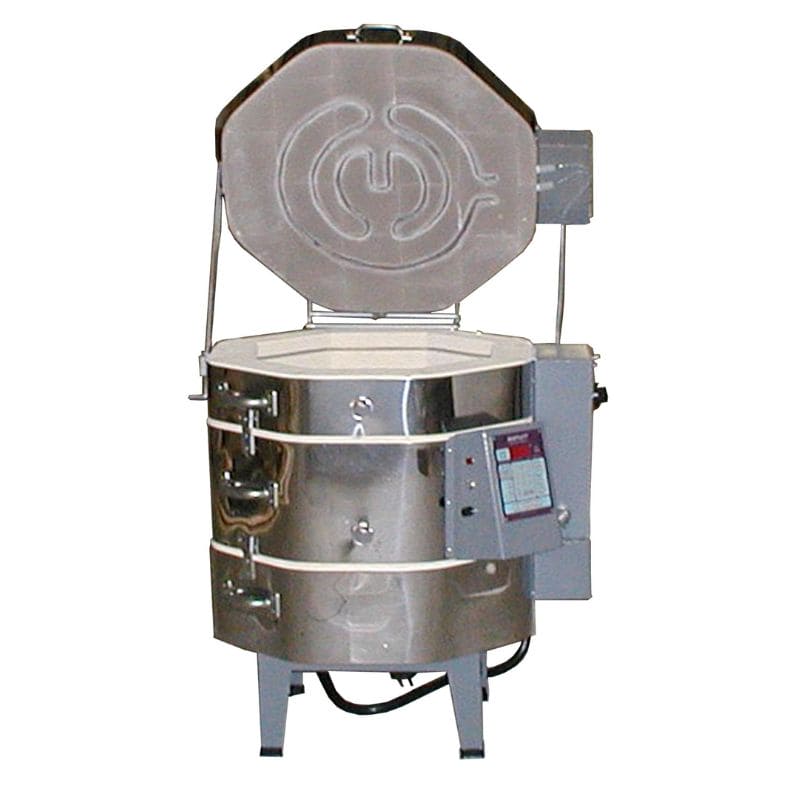 Olympic Kilns DM1818HE Electric Kiln
Description

Specifications

3K-CF Controller

Current lead times

Shipping

Why Buy From Us
The DM1818HE Dual Media Kiln: A Durable Multitasker for All Your Creative Fires
Investing in the DM1818HE Dual Media kiln means investing in a powerhouse of versatility and endurance. Tailor-made for classrooms and studios that demand the utmost in durability and consistent performance, this kiln is a reliable workhorse capable of handling continuous firings without a hitch.
Crafted for Diversity in Artistic Expression
Whether you're sculpting stoneware, throwing pottery, or fusing glass, the DM1818HE is engineered to support your artistic versatility. Its dual-media design reaches peak temperatures for high-fire ceramics and includes a specialized lid element for glasswork, ensuring you have the right conditions for any project.
Built-In Durability with Every Fire
Olympic kilns are synonymous with longevity, and the DM1818HE is no exception. Featuring a 2-inch blank brick row to safeguard the elements during loading and a stainless steel jacket, this kiln is built to last. The high-fire range goes up to 2350°F, allowing you to push the boundaries of your ceramic and glass artistry.
Unmatched Control for Precise Results
Control is key in firing, and the DM1818HE comes standard with the Bartlett 3K-CF electronic controller. Navigate through cone fire or ramp/hold programming with ease for precision firings. For those who crave even more control, upgrades like the Genesis touchscreen offer additional user programs and features such as delay start, cone offset, and more.
Options to Elevate Your Firing Experience
Tailor your DM1818HE to meet the unique needs of your medium with options like the Type S thermocouple, vent for effective fume extraction, and 2 or 3 zone control for even more precise temperature regulation. The optional Kilnstar controller caters to a wide range of materials, including glass, pottery, ceramics, and heat-treating processes.
Assured Quality with Limited Warranty
Feel confident in your kiln's performance with the one-year Limited Kiln Warranty for cone 10 models. It's a testament to the trust Olympic Kilns places in the quality and resilience of their products.
The DM1818HE is not just a kiln; it's a steadfast partner in your creative journey, built to outlast and outperform, ensuring that your artistry is only limited by the breadth of your imagination.
Model: DM1818HE




Lid Lift Assist: Optional




Inside Chamber Dimensions: 17.5" W x 18" D

Cubic Feet: 2.63

Outside Dimensions with Stand or Frame: 31.5" W x 32" D

Brick Thickness: 3"

Maximum Temperature: Cone 10 – 2350°F/1288°C

Est Ship Weight: 185 lbs

Amperage/Volts: 32 amps / 208 volts or 29 amps / 240 volts

Watts: 6,960

Breaker: 40 amp required


Plug Configuration: NEMA 6-50

Copper Wire Size: #8, #6 if the circuit is longer than 40 ft
Keypad: 3 keys

No. of Thermocouples or Zones: 1

Thermocouple Type: K

Method of Control: On/Off

Vary-Fire (Ramp/Hold): Stores up to 4 programs (last fired program remains in memory)

Segments per program: 8 (each segment has a ramp rate to a temperature, and a soak period)

Skip-Step: Yes (move from one segment to the next ramp)

Add Time: Yes (to current hold period)

Preset Cone Fire Programs: 3 speeds (slow, medium, fast)

Cone Fire to Ramp Hold: No

Temperature Scale: 

°F or °C
Multi-Zone Control: No
Delay Start: Yes
Alarm: No
Error Codes: Limited (power failure, t/c FAIL, t/c leads reversed)
Cost of Firing Calculation: No
Diagnostics: No
Wi-Fi Ready: No
Wi-Fi Enabled for easy software updating: No
Data Graphing: No
Monitor Firing with Phone App: No
Estimated order-to-ship lead time is approximately 12-15 weeks for Olympic Kilns.

Pottery Pulse ships orders FREE to customers within the lower 48 contiguous United States (including the District of Columbia).
We don't want to mess around with fine print and extra charges, we
like things to be simple and easy.
Free is pretty easy.
We get it. You've got a lot of choices when it comes to online retailers. Here's why we think you should shop with us at Pottery Pulse.
Price Match Guarantee. Best prices online guaranteed.
30 Day Easy Returns. Changed your mind? We'll take it back no questions asked.
Super amazing service. Great service isn't enough these days, is it? We pride ourselves on the best service, anywhere.