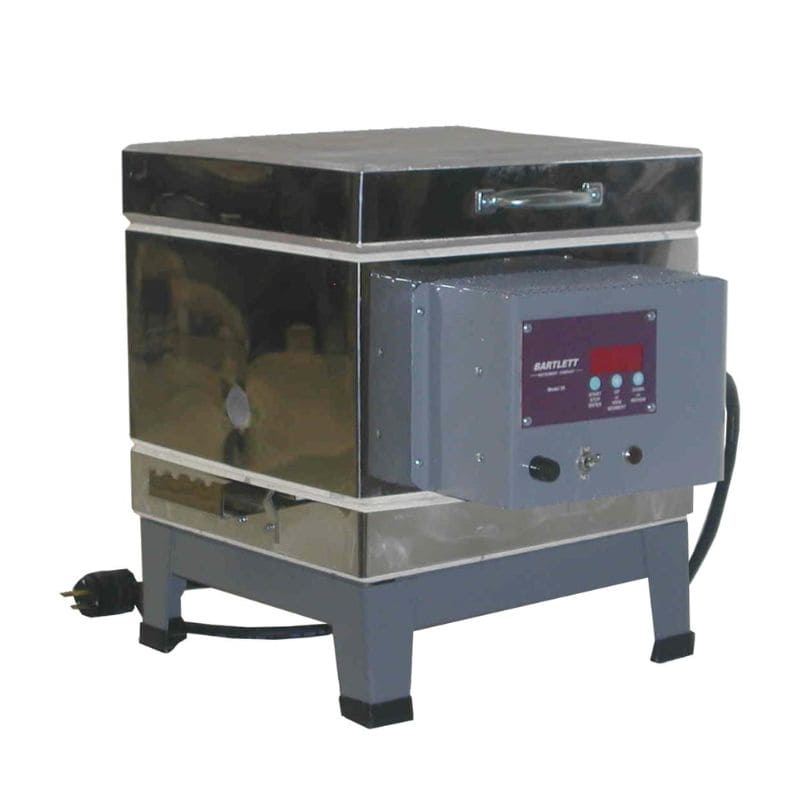 Olympic Kilns HB86E Electric Kiln
Description

Specifications

Current lead times

Shipping

Why Buy From Us
Maximize Your Firing Flexibility with the Olympic HotBox 86E Kiln
The Olympic HotBox 86E stands as the pinnacle of compact kiln innovation, offering expansive possibilities with its detachable lid and collar for those artists seeking more depth and versatility. This model isn't just the largest of the Olympic's Hot Boxes featuring a detachable lid—it's a transformative tool for those who push the boundaries of creativity.
With an electronic controller and standard 120-volt operation, the HotBox 86E delivers high-performance firing up to Cone 10 at 2350°F within its ample 8"H x 8"W x 6.5"D interior. But when your projects demand more space, the optional collar extends the firing chamber to 11", all while maintaining a firing range up to 2000°F. The bead collar isn't merely an extension; it's an enhancement, complete with a door designed for the annealing process.
Every Olympic 120-volt electric kiln embodies reliability and convenience, from the reassuring glow of the pilot light to the robust metal stand and the enduring stainless steel jacket. Programming is intuitive and user-friendly, facilitated by the acclaimed Bartlett 3K-CF electronic controller, where precise cone fire or ramp/hold settings are at your fingertips.
For those looking to take their firing capabilities to the next level, consider upgrading to either the Genesis touchscreen or the 12-key digital KilnStar controller. These state-of-the-art controllers offer additional user programs, delay start options, preheat functions, cone offset capabilities, and various features tailored for serious artists.
And if you want to watch your precise firing at work, consider adding a quartz viewing window. Two size/shape options to consider, a 2" round or a 2" x 4" rectangle window.
Oh, and for you glass artists looking to do some vitrigraphing, be sure to add on the fiber floor option!
For artists who prioritize organization and efficiency, the Furniture Kit for the HB86E is a game-changer, boasting dual layers of 6.5" x 6.5" shelving and a variety of posts for optimized stacking, all complemented by a pound of kiln wash to maintain your kiln's integrity.
Embrace the recommended Solid State Relay upgrade for unwavering power control up to 20 amps, ensuring that every firing is a testament to your commitment to excellence. Discover the power and precision of the Olympic HotBox 86E and let your artistry know no bounds.

Model: 86E




Lid Lift Assist: N/A




Inside Chamber Dimensions: 8" W x 8" H x 6.5" D

Cubic Feet: 0.24

Outside Dimensions with Stand or Frame: 17.5" W x 13" H x 16.5" D

Brick Thickness: 2.5"

Maximum Temperature: Cone 10 – 2350°F/1288°C

Max Temp with collar: 2000°F/1093°C

Est Ship Weight: 55 lbs

Amperage/Volts: 15 amps, 120 volts

Watts: 1800

Breaker: 20 amp required


Plug Configuration: NEMA 5-15

Copper Wire Size: #12, #10 if the circuit is longer than 40 ft
The Furniture Kit option for the HB86E includes 2 layers of shelving (6.5" x 6.5"), an assortment of small square posts (4 each of 1/2", 1", and 2"), and a one-pound bag of kiln wash.
Estimated order-to-ship lead time is approximately 12-15 weeks for Olympic Kilns.

Pottery Pulse ships orders FREE to customers within the lower 48 contiguous United States (including the District of Columbia).
We don't want to mess around with fine print and extra charges, we
like things to be simple and easy.
Free is pretty easy.
We get it. You've got a lot of choices when it comes to online retailers. Here's why we think you should shop with us at Pottery Pulse.
Price Match Guarantee. Best prices online guaranteed.
30 Day Easy Returns. Changed your mind? We'll take it back no questions asked.
Super amazing service. Great service isn't enough these days, is it? We pride ourselves on the best service, anywhere.