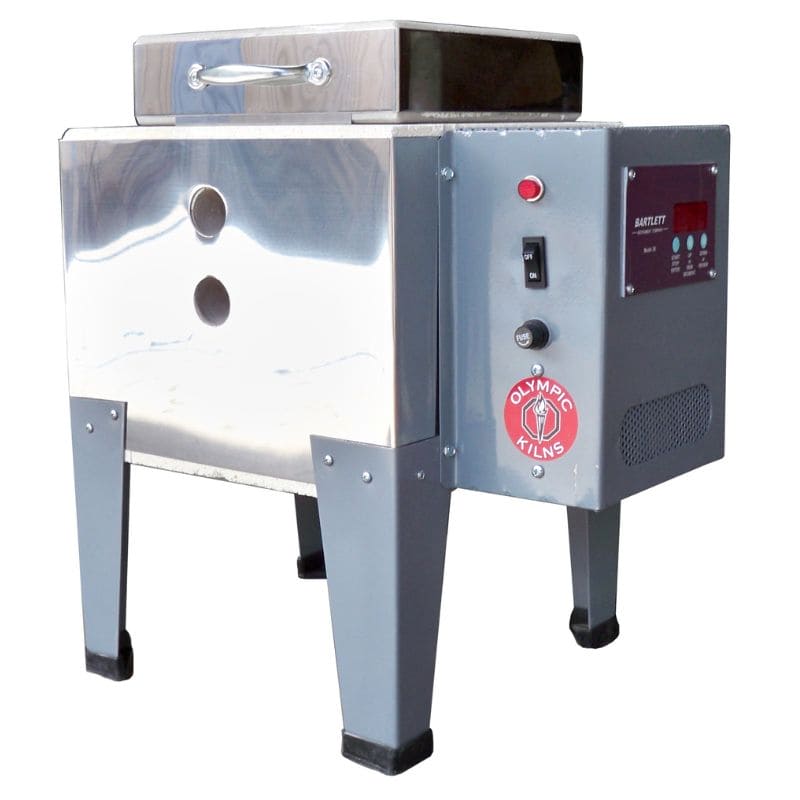 Olympic Kilns HotBox E Electric Kiln
Description

Specifications

3K-CF Controller

Current lead times

Shipping

Why Buy From Us
The HotBox E: Unparalleled Performance in a Compact Package
Craft your creative vision with ease using the HotBox E, a versatile and powerful electric kiln that combines user-friendly operation with the precision of high-end equipment. Ideal for artists working in pottery, glass, or jewelry, this 120-volt powerhouse is compact enough for any studio yet robust enough to produce professional-quality results.
Simplified Control for Complex Creations
Every HotBox E model comes standard with the intuitive Bartlett 3K-CF electronic controller, a pilot light for safety, a solid metal stand, and a durable stainless steel jacket. Programming your firings is a breeze with the user-friendly interface; just scroll through the options with the up and down arrows to set your desired cone fire or ramp/hold profile.
Customizable to Fit Your Artistic Needs
The HotBox E adapts to your creative demands. Choose to expand its capabilities with an optional collar, either bead or blank, to reach firing temperatures of up to 2000°F and add an extra 4.5 inches of depth. For glass artists, the bead collar is a game-changer, offering a specialized door for the annealing process, ensuring your creations cool at the perfect rate to preserve their beauty and integrity.
Essential Accessories for Your Firing Success
The comprehensive Furniture Kit for the HotBox E is designed to maximize your kiln's space. It includes two layers of 5.5" x 5.5" shelving for efficient stacking of your ware, assorted small square posts to support your projects at varying heights, and a one-pound bag of kiln wash to keep your kiln clean and ready for action. This kit is an essential addition for serious artists.
Advanced Upgrades for Enhanced Operations
For those seeking even greater control over their firing conditions, the Solid State Relay upgrade is an excellent investment. This feature, suitable for up to 20 amps with 1 phase wiring, ensures smoother power control to your elements, leading to more consistent temperatures and extended element life.
Choose the HotBox E for a kiln experience that blends sophistication with simplicity, power with precision, and advanced features with absolute ease of use. Embrace the freedom to create, refine, and perfect your art with a kiln that understands your passion for perfection. 
Model: HotBox E




Lid Lift Assist: N/A




Inside Chamber Dimensions: 6.5" W x 6.5" H x 6.5" D

Cubic Feet: 0.16

Outside Dimensions with Stand or Frame: 16" W x 16" H x 15.5" D

Brick Thickness: 2.5"

Maximum Temperature: Cone 10 – 2350°F/1288°C

Max Temp with collar: 2000°F/1093°C

Est Ship Weight: 40 lbs

Amperage/Volts: 15 amps, 120 volts

Watts: 1800

Breaker: 20 amp required


Plug Configuration: NEMA 5-15

Copper Wire Size: #12, #10 if the circuit is longer than 40 ft
Keypad: 3 keys

No. of Thermocouples or Zones: 1

Thermocouple Type: K

Method of Control: On/Off

Vary-Fire (Ramp/Hold): Stores up to 4 programs (last fired program remains in memory)

Segments per program: 8 (each segment has a ramp rate to a temperature, and a soak period)

Skip-Step: Yes (move from one segment to the next ramp)

Add Time: Yes (to current hold period)

Preset Cone Fire Programs: 3 speeds (slow, medium, fast)

Cone Fire to Ramp Hold: No

Temperature Scale: 

°F or °C
Multi-Zone Control: No
Delay Start: Yes
Alarm: No
Error Codes: Limited (power failure, t/c FAIL, t/c leads reversed)
Cost of Firing Calculation: No
Diagnostics: No
Wi-Fi Ready: No
Wi-Fi Enabled for easy software updating: No
Data Graphing: No
Monitor Firing with Phone App: No
Estimated order-to-ship lead time is approximately 12-15 weeks for Olympic Kilns.

Pottery Pulse ships orders FREE to customers within the lower 48 contiguous United States (including the District of Columbia).
We don't want to mess around with fine print and extra charges, we
like things to be simple and easy.
Free is pretty easy.
We get it. You've got a lot of choices when it comes to online retailers. Here's why we think you should shop with us at Pottery Pulse.
Price Match Guarantee. Best prices online guaranteed.
30 Day Easy Returns. Changed your mind? We'll take it back no questions asked.
Super amazing service. Great service isn't enough these days, is it? We pride ourselves on the best service, anywhere.