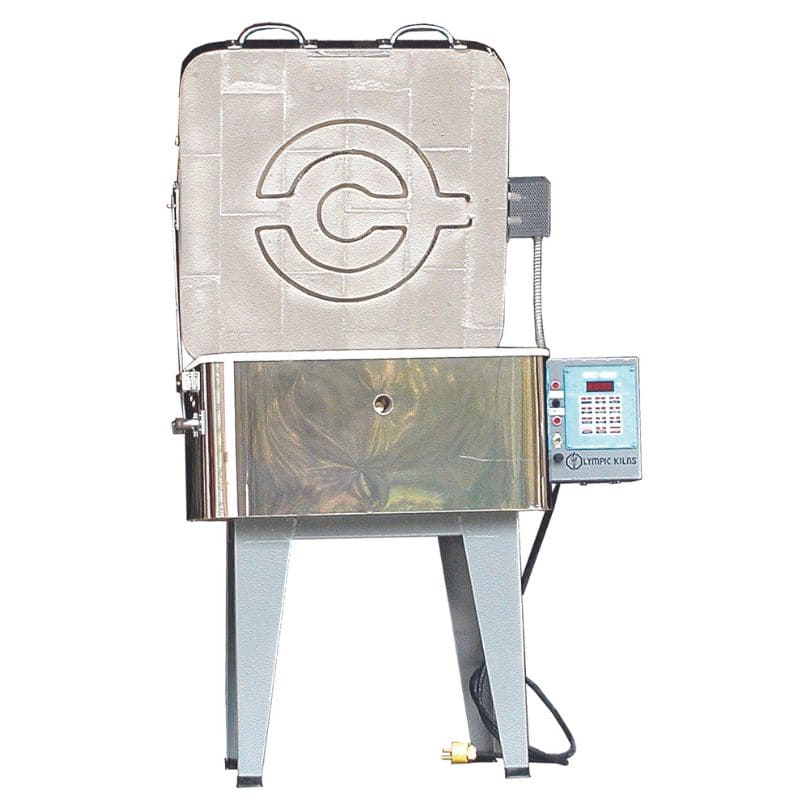 Olympic Kilns Square 186GFE Electric Glass Kiln
Description

Specifications

Current lead times

Shipping

Why Buy From Us
Elevate Your Glass Artistry with the Olympic Kilns Square 186GFE
Olympic Kilns Square 186GFE: The Epitome of Versatility and Precision in Glass Firing
Introducing the Square 186GFE from Olympic Kilns, a masterpiece of kiln design tailor-made for the ambitious glass artist. As the largest top-loading glass firing kiln available on a 120-volt system, this model boasts a spacious interior of 18" deep x 18" wide x 6" high (volume = 1.125 cubic feet!), and a firing capability up to 1550°F/843°C. It's the perfect fusion of size, power, and innovation, designed for the intricate art of glass fusing, forming, and precious metal clay work.
Dual-Element System for Unmatched Control
The Square 186GFE features a dual-element system, with a lid element dedicated to the fusing segment and a body element for precise control during ramping, annealing, and cooling. The unique selector switch on the electrical box empowers you to choose between the lid or body element, adapting to the specific needs of your project with ease and precision.
A Symphony of Advanced Features
With Olympic Kilns, you're not just buying a kiln; you're investing in an experience. Upgrade to the Genesis touchscreen controller or the 12-key digital KilnStar controller for an array of ramp-hold user programs, including delay start, preheat, and skip step. Monitor your firing profile with ease, ensuring exact firings every time.
Customization at Your Fingertips
Make the Square 186GFE uniquely yours with a range of optional enhancements. From the practicality of the lid lift assist and the clarity of a quartz glass viewing window to the accuracy of a Type S thermocouple and the convenience of a vent system, your kiln can be tailored to fit your artistic vision.
You also might want to add lid elements in the quartz rods for glass firing.
Effortless Mobility and Safety
Consider the stand with caster wheels for effortless relocation within your workspace, ensuring your kiln is always in the perfect spot. And for peace of mind, the power interrupt switch is a must-have, cutting power to the heating elements when the kiln is open and reinstating it upon closure.
You can also add a flash arm, an optional metal arm on the kiln that is notched for 2″ and 4″ openings for the lid venting.
The Ultimate Furniture Kit for Every Artist
The Furniture Kit for the Square 186GFE is a necessity for any serious artist. Including two layers of 16" x16" shelving, assorted square posts (4 each of 1/2, 1, and 2 inch posts), 2 square feet of ceramic paper, and a one-pound bag of kiln wash; it's designed to maximize your firing space and protect both your kiln and creations.
Innovative Solid State Relay for Efficiency and Durability
The solid state relay is a game-changer, offering rapid cycling of the elements, incredible temperature control, and extended element life. This means not only accurate firings but also savings on your electrical bill and the peace of mind that comes with long-lasting reliability.
Controller Selection: A World of Possibilities
Whether you choose the Genesis for its touchscreen capabilities and extensive programming options or the digital KilnStar controller for its flexibility and on-the-fly adjustments, Olympic Kilns ensures you have the best tools at your fingertips. Even the basic 3K-CF controller offers solid performance, but for those seeking to expand their creative horizons, an upgrade is highly recommended.
Your Art, Your Way with Olympic Kilns Square 186GFE
The Square 186GFE is more than just a kiln; it's a cornerstone for your artistic expression. Designed for precision, flexibility, and reliability, it stands as a testament to Olympic Kilns' commitment to empowering artists. Choose the Square 186GFE for a kiln that not only meets but exceeds your creative needs, helping you bring your most ambitious glass projects to life. 
Model: Square 186GFE




Lid Lift Assist: Optional




Inside Chamber Dimensions: 18" D x 18" W x 6" H

Cubic Feet: 1.125

Outside Dimensions with Stand or Frame: 32" x 26" x 33"

Brick Thickness: 3"

Maximum Temperature: 1550°F/843°C

Est Ship Weight: 195 lbs


Amperage/Volts: 16 amps, 120 volts

Watts: 1920

Breaker: 20 amp required


Plug Configuration: NEMA 5-20

Copper Wire Size: #12, #10 if the circuit is longer than 40 ft

 
Estimated order-to-ship lead time is approximately 12-15 weeks for Olympic Kilns.
Pottery Pulse ships orders FREE to customers within the lower 48 contiguous United States (including the District of Columbia).
We don't want to mess around with fine print and extra charges, we
like things to be simple and easy.
Free is pretty easy.
We get it. You've got a lot of choices when it comes to online retailers. Here's why we think you should shop with us at Pottery Pulse.
Price Match Guarantee. Best prices online guaranteed.
30 Day Easy Returns. Changed your mind? We'll take it back no questions asked.
Super amazing service. Great service isn't enough these days, is it? We pride ourselves on the best service, anywhere.